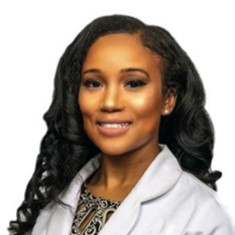 Serina Lewis, MD, is a board-certified family medicine physician who has been serving residents of the Washington DC Metropolitan area since 2019. She will be seeing patients from the office in Columbia, Maryland.
She received her medical degree from Georgetown University School of Medicine in Washington, DC, and completed a residency in Family Medicine at Meritus Medical Center in Hagerstown, Maryland. Prior to her medical training, she worked in the biopharmaceutical industry. She served as a committee member of her medical school's Council on Diversity Affairs and was active with the district's homeless community.
Dr. Lewis is trained in all facets of primary care with focus on preventive medicine. She believes in care of the whole person, and has an approach that is centered on the individual patient to ensure quality care and well being. She is passionate about women's care, but provides care for a wide variety of ailments including acute issues, mental health, and weight management.
In her spare time, Dr. Lewis enjoys getting involved in her community with her sorority sisters, traveling with friends and family, and working out.