About Our Anxiety Treatment
First Medical Associates is a trusted primary care provider with a longstanding reputation for excellence in healthcare. With our experienced team of physicians and healthcare professionals, we are devoted to offering a full spectrum of patient-centered services, including expert anxiety treatment in Maryland. Our multidisciplinary approach and unwavering commitment to patient well-being make us the go-to choice for individuals seeking compassionate, effective, and evidence-based anxiety care.
At our anxiety treatment clinic in Maryland, we understand that anxiety manifests in various ways, and a one-size-fits-all approach is rarely effective. Therefore, we tailor our anxiety treatment services to each patient's unique needs, employing a combination of proven techniques and innovative therapies. Although we do not provide therapy directly, we collaborate closely with trusted therapists, ensuring a seamless and comprehensive treatment experience for our patients.
Our comprehensive anxiety diagnosing services include:
1. Comprehensive Evaluation: Our expert physicians conduct a thorough assessment of your anxiety symptoms, medical history, and lifestyle factors to determine the best course of action.
2. Personalized Treatment Plan: Based on our evaluation, we create a customized treatment plan that targets your specific anxiety triggers and symptoms.
3. Medication Management: Our physicians may prescribe appropriate medication to alleviate anxiety symptoms, while closely monitoring your progress and adjusting dosages as needed.
4. Collaboration with Therapists: To ensure a holistic treatment approach, we work closely with trusted therapists, facilitating seamless communication and coordination of care.
5. Ongoing Support: We provide continuous support and follow-up care to help you maintain long-term progress and overall well-being.
Don't let anxiety hold you back any longer. Take the first step towards a healthier, happier life by getting in touch with our anxiety treatment clinic in Maryland today. At First Medical Associates, we are committed to helping you overcome anxiety and reclaim control of your life. Call us now or complete our convenient online contact form to schedule a consultation with our compassionate and knowledgeable team. Let us help you embark on the path to recovery and lasting well-being.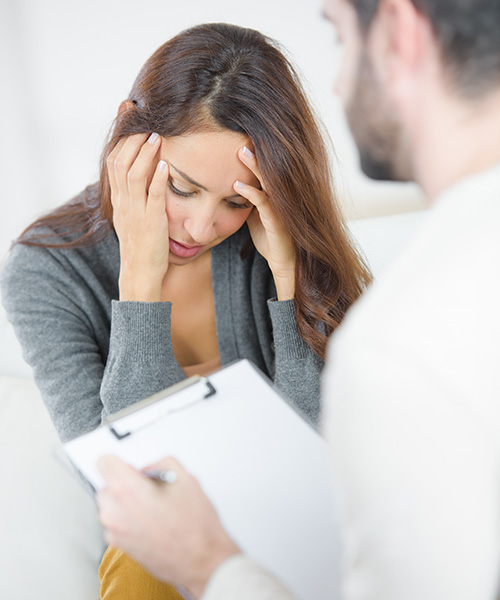 What sets First Medical Associates apart from other primary care providers in Maryland?
First Medical Associates stands out for our unwavering commitment to patient-centered care and our multidisciplinary approach to addressing anxiety. Our experienced team of physicians and healthcare professionals work closely with trusted therapists, ensuring seamless communication and coordination of care. This collaboration allows us to provide comprehensive evaluations and personalized recommendations tailored to each patient's unique needs and circumstances.
Do I need a referral to receive an anxiety evaluation at First Medical Associates?
While a referral is not always necessary, we recommend discussing your concerns about anxiety with your primary care provider, who can guide you on the appropriate course of action. If you don't have a primary care provider, you can contact us directly to schedule a consultation and discuss your concerns with our team.
How long does the anxiety evaluation process typically take?
The duration of the anxiety evaluation process varies depending on the complexity of your symptoms and other individual factors. Our team at First Medical Associates works closely with you to gather the necessary information and provide recommendations for your next steps in addressing your anxiety.
What types of anxiety disorders does First Medical Associates treat?
At First Medical Associates, our expert physicians and healthcare professionals are experienced in treating various anxiety disorders, including Generalized Anxiety Disorder (GAD), Social Anxiety Disorder, Panic Disorder, Obsessive-Compulsive Disorder (OCD), and Post-Traumatic Stress Disorder (PTSD). Our comprehensive evaluation process helps us determine the specific anxiety disorder you may be experiencing, allowing us to create a personalized treatment plan tailored to your needs.

*Self-Pay
$150/Consultation
Accepted Insurances
Aetna
Blue Choice
Blue Cross Blue Shield
CareFirst
Humana
Johns Hopkins Health
Maryland Medicaid (Wellpoint/Amerigroup Carefirst Community Plan, Aetna Medicaid, United Health Medicaid, Priority Partner-Johns Hopkins, Amerigroup and straight Medicaid)
Medicare (Including Medicare Advantage Plans with United Health Care, Carefirst, John Hopkins, Aetna) All Secondary Insurances accepted
Cigna
UHC
Find a Location
Discover a nearby health clinic in Maryland.
Questions
Are you seeking answers to health-related questions? 24/7 help available.
Patient Portal
Log in to your First Healthcare Associates patient portal