Geriatric Care services offered in Maryland at First Medical Associates. The United States has an aging population that needs specialized geriatric medical care — around 10,000 people turn 65 every day. A well-trained team of Physicians and Advanced Care Practitioners offer expert geriatric care at First Medical Associates in Maryland. We can help you protect and improve your health so you can continue to lead an active, fulfilling life. Call or schedule a consultation online today.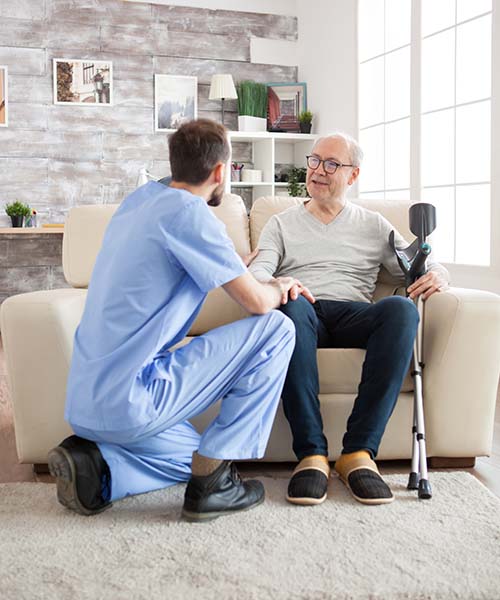 What is geriatrics?
Geriatrics is a medical specialty area that focuses on the health needs of aging patients. For example, just as young children need a physician who understands their specific needs as they grow and develop, patients over the age of 65 need a doctor who understands the changes and challenges of their bodies.
Why do I need geriatric care?
As you age, your risk of developing many health problems increases. As a result, you're more likely to have several medical conditions and find that treatment for one issue negatively interacts with another illness. Additionally, you may find that you become frailer and you don't recover from exertion or injuries as quickly as you once did. The team provides customized geriatric care at First Medical Associates, including comprehensive wellness checks to see the big picture of your health. They understand how different medications interact with each other and work with you and other specialists to coordinate your care for optimal physical function and health.
What medical conditions affect geriatric patients?
Your risk of developing specific health problems increases as you age. Some of the most common health issues for older patients include:
Arthritis
Osteoporosis
Heart disease
High blood pressure
High cholesterol
Diabetes
Cancer
Chronic obstructive pulmonary disease (COPD)
Dementia
Depression
Your chances of sustaining serious injuries during a fall also increase with age. You also become more vulnerable to illnesses like the flu, pneumonia, and shingles as well as related complications.
How does geriatric care help protect my health?
It's also essential to have routine health checks with a trusted physician like the team at First Medical Associates. Often, when caught in their early stages, you can control health conditions with lifestyle modifications. The team recommends you eat a nutritious diet, get at least 30 minutes of physical activity every day, and maintain a healthy body weight. You should also avoid tobacco products and limit your use of alcohol. If you're looking for expert and compassionate geriatric care, call First Medical Associates or schedule a consultation online today.

*Self-Pay
$150/Consultation
Accepted Insurances
Aetna
Blue Choice
Blue Cross Blue Shield
CareFirst
Humana
Johns Hopkins Health
Maryland Medicaid (Wellpoint/Amerigroup Carefirst Community Plan, Aetna Medicaid, United Health Medicaid, Priority Partner-Johns Hopkins, Amerigroup and straight Medicaid)
Medicare (Including Medicare Advantage Plans with United Health Care, Carefirst, John Hopkins, Aetna) All Secondary Insurances accepted
Cigna
UHC
Find a Location
Discover a nearby health clinic in Maryland.
Questions
Are you seeking answers to health-related questions? 24/7 help available.
Patient Portal
Log in to your First Healthcare Associates patient portal