Arthritis services offered in Maryland at First Medical Associates. The joint pain and limited motion caused by arthritis can make you miserable and slow you down. Dr. Rakesh Malik and the team of physician assistants at First Medical Associates help men and women in Maryland manage the stiffness, swelling, and other symptoms of arthritis. To feel better fast, call today or book an appointment with the scheduling button below.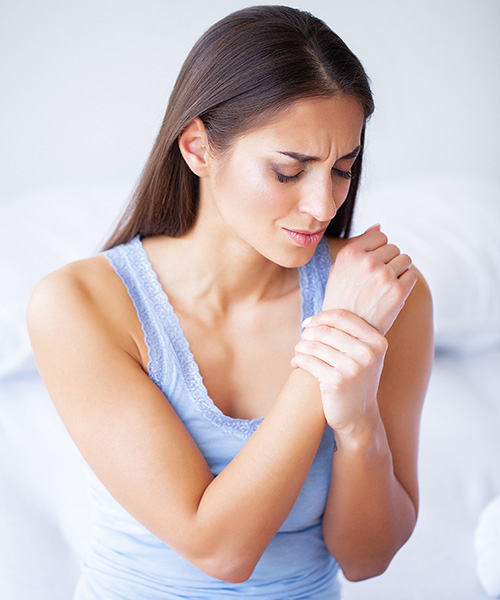 What is arthritis?
Arthritis is a general term used to describe more than one hundred different types of joint inflammation and disease. It's a prevalent condition that strikes millions of men, women, and children.
What are the different types of arthritis?
More than one hundred individual diseases fall under the blanket term of arthritis. Each of the varieties is classified into one of the following categories:
Degenerative: includes osteoarthritis
Musculoskeletal: includes injuries like tennis elbow
Back: includes spondylosis
Inflammatory: includes rheumatoid arthritis
Infectious: includes bacterial, viral, and fungus infections
Metabolic: includes gout
Connective tissue: includes lupus
By far, the most common kinds of arthritis are osteoarthritis and rheumatoid arthritis. Osteoarthritis occurs when the cartilage between your joints wears down and causes nagging pain and persistent swelling. Osteoarthritis is degenerative because it breaks down supportive cartilage and tissues that cushion and surround the joints. Rheumatoid arthritis is an autoimmune disorder that causes the body to attack the linings between your joints, as well as ligaments, bones, cartilage, and muscles. With rheumatoid arthritis, your joints become warm, red, and swollen.
What are the symptoms of arthritis?
Since there are several types of arthritis, the symptoms are particular to the kind you have. In general, arthritis symptoms can come and go and range from tolerable to severe. Common complaints associated with arthritis are:
Stiffness
Joint pain
Swelling near the joints
Limited mobility
Painful grip
Knobby joints
How is arthritis treated?
Early diagnosis is imperative for minimizing joint damage. Treatment depends on the type of arthritis you have and how severely it affects you. The team at First Medical Associates provides comprehensive arthritis care for lower back pain, knee pain, and joint pain. Treatment options Dr. Malik and his team use with men and women are:
Physical therapy
Pain medications
Anti-inflammatories
Joint injections
Weight loss programs
Education and support
Nutritional counseling
Exercise recommendations
If necessary, Dr. Malik and his team may refer you to a specialist if you need long-term pain management or surgery to treat your arthritis. Rely on the skilled providers at First Medical Associates when arthritis threatens your quality of life. Make an appointment online or call the office today.

*Self-Pay
$150/Consultation
Accepted Insurances
Aetna
Blue Choice
Blue Cross Blue Shield
CareFirst
Humana
Johns Hopkins Health
Maryland Medicaid (Wellpoint/Amerigroup Carefirst Community Plan, Aetna Medicaid, United Health Medicaid, Priority Partner-Johns Hopkins, Amerigroup and straight Medicaid)
Medicare (Including Medicare Advantage Plans with United Health Care, Carefirst, John Hopkins, Aetna) All Secondary Insurances accepted
Cigna
UHC
Find a Location
Discover a nearby health clinic in Maryland.
Questions
Are you seeking answers to health-related questions? 24/7 help available.
Patient Portal
Log in to your First Healthcare Associates patient portal