Attention Deficit Hyperactivity Disorder (ADHD) is a common neurodevelopmental disorder that affects children, adolescents, and adults. Early diagnosis and appropriate treatment are crucial for managing ADHD symptoms and improving the quality of life for individuals and their families. At First Medical Associates, we provide comprehensive ADHD treatment in Maryland, ensuring patients receive the care and support they need.
As a leading primary care facility, First Medical Associates specializes in the diagnosis and treatment of ADHD. Our experienced primary care doctors (PCPs) follow a thorough process to ensure an accurate diagnosis, which includes taking a medical history, conducting a physical exam, utilizing behavioral questionnaires, and gathering input from family and friends. Once a diagnosis is confirmed, our team works closely with patients to develop an individualized treatment plan that may include medication, therapy, or a combination of both.
Personalized ADHD Treatment in Maryland
At First Medical Associates, we understand that every patient is unique, and we tailor our ADHD treatment plans accordingly. Treatment options may include medication, therapy, or a combination of both.
Medication: Medication is a highly effective treatment option for managing ADHD symptoms. Our doctors prescribe different types of medications, such as stimulants, non-stimulants, and atomoxetine, based on individual needs. Stimulant medications are commonly prescribed for ADHD and work by increasing certain neurotransmitters in the brain to improve attention and focus. Non-stimulant medications and atomoxetine also help manage ADHD symptoms through different mechanisms, offering alternatives for patients who cannot tolerate stimulants or require additional support.
Therapy: While First Medical Associates focuses on initial diagnosis and medication management, we understand the importance of therapy in a comprehensive ADHD treatment plan. We collaborate with trusted therapists in Maryland who specialize in various therapeutic approaches, including behavioral therapy, cognitive-behavioral therapy, and family therapy. These modalities help individuals with ADHD develop new skills to manage their symptoms, change thinking patterns and behaviors, and provide families with the tools to cope with and support their loved ones.
A combination of medication and therapy: For some patients, a combination of medication and therapy offers the best results in managing ADHD symptoms. Medication helps improve attention and focus, while therapy equips individuals with the necessary skills to navigate daily life with ADHD. Our team at First Medical Associates works closely with patients and therapists to ensure a cohesive and effective treatment plan.
If you suspect that you or a loved one may have attention deficit hyperactivity disorder, don't hesitate to contact First Medical Associates. Our experienced primary care doctors are here to help you get the diagnosis and support you need to live a healthy and productive life. With our commitment to comprehensive care and a network of trusted therapists, we are dedicated to helping patients and their families in Maryland manage ADHD and enjoy an improved quality of life.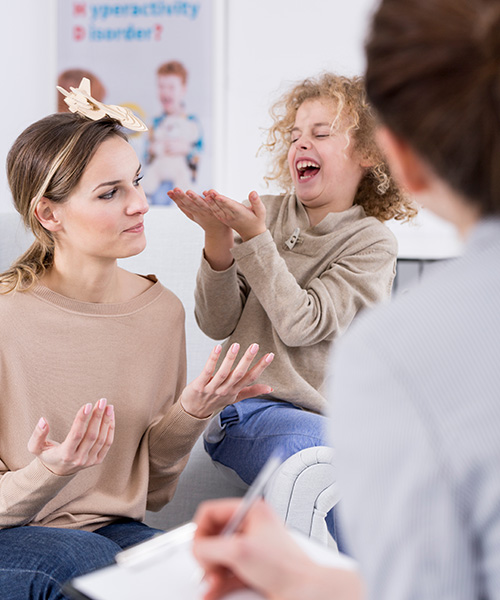 If First Medical Associates doesn't provide therapy for ADHD, how can I find a suitable therapist?
While First Medical Associates does not offer therapy for ADHD directly, our primary care doctors can provide referrals to trusted therapists and mental health professionals in the area who specialize in ADHD treatment. We will work closely with these providers to ensure a comprehensive and collaborative approach to your care.
Are there any side effects associated with ADHD medications?
As with any medication, there can be potential side effects associated with ADHD medications. These may include loss of appetite, sleep disturbances, irritability, or increased heart rate. Our primary care doctors at First Medical Associates will carefully monitor your progress and work with you to find the most suitable medication and dosage to minimize any side effects.
How often do I need to follow up with my primary care doctor at First Medical Associates for ADHD treatment?
The frequency of follow-up appointments depends on your individual needs and treatment plan. In the beginning, you may need to see your primary care doctor more frequently to establish the most effective treatment approach. Once your treatment is underway and progress is evident, your doctor may recommend less frequent appointments to monitor your ongoing progress and make any necessary adjustments to your treatment plan.
Can First Medical Associates help monitor medication effectiveness and side effects?
Yes, our primary care doctors at First Medical Associates are experienced in prescribing and monitoring ADHD medications. They will work with you to find the most appropriate medication and dosage, and they will closely monitor your progress to ensure the medication is effective and minimizes any potential side effects.

*Self-Pay
$150/Consultation
Accepted Insurances
Aetna
Blue Choice
Blue Cross Blue Shield
CareFirst
Humana
Johns Hopkins Health
Maryland Medicaid (Wellpoint/Amerigroup Carefirst Community Plan, Aetna Medicaid, United Health Medicaid, Priority Partner-Johns Hopkins, Amerigroup and straight Medicaid)
Medicare (Including Medicare Advantage Plans with United Health Care, Carefirst, John Hopkins, Aetna) All Secondary Insurances accepted
Cigna
UHC
Find a Location
Discover a nearby health clinic in Maryland.
Questions
Are you seeking answers to health-related questions? 24/7 help available.
Patient Portal
Log in to your First Healthcare Associates patient portal