Asthma services offered in Maryland at First Medical Associates.
When you experience bouts of shortness of breath and wheezing from asthma, First Medical Associates can give you the help and support you need. In Maryland, Dr. Malik and a team of physician assistants offer comprehensive asthma care. Call today or book your appointment online.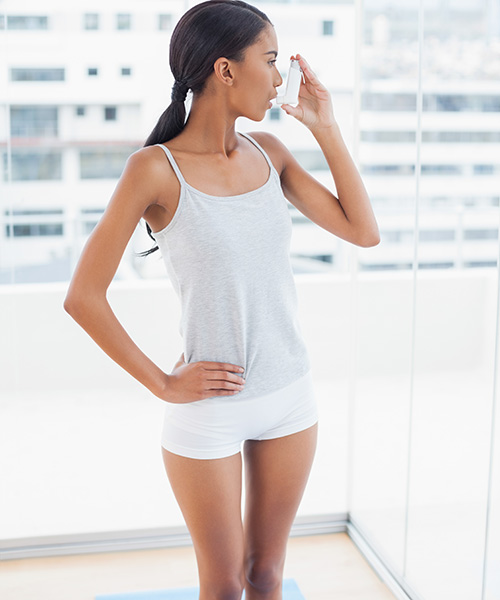 What is asthma?
Asthma is a chronic lung condition that makes it difficult to breathe. It affects nearly 300 million men, women, and children throughout the world. Characterized by wheezing and shortness of breath, asthma has no known cure. There are a variety of treatment options available to help manage the respiratory symptoms that accompany the condition.
What are the symptoms of asthma?
Asthma symptoms vary by person and in severity, but there are some well-known signs that you may have the respiratory illness. Experiencing recurring bouts of the following symptoms may indicate that you have asthma:
Frequent coughing
Cough that produces mucus
Dry cough
Shortness of breath
Wheezing
Chest tightness
How is asthma diagnosed?
Dr. Malik tests your lung capacity with a thorough pulmonary function test, also commonly called a lung function test. The test accurately measures how well your lungs are functioning and how your body takes in oxygen. The pulmonary function test not only helps Dr. Malik make an asthma diagnosis, but it also allows the team at First Medical Associates to monitor the progression of your disease and how well you respond to treatment.
What are the treatment options for asthma?
If you have asthma, you know all too well that an attack can occur at any time. If you need quick help when asthma strikes, First Medical Associates provides nebulizer treatments in the walk-in urgent care clinic. Though asthma isn't curable, there are a variety of non-emergency treatment options to help you handle the symptoms on a daily basis. The first step in asthma care is to know and avoid the things that may trigger you to cough and struggle for air. Some of these triggers may include:
Allergies
Air quality
Exercise
Strong smells and other irritants
Smoking
Lung infections
If Dr. Malik determines that you need medicine to manage your asthma, he may prescribe an inhaler, bronchodilator, immunotherapy, or oral medications. Once your treatment plan is customized, he'll follow up regularly for monitoring and assessment. When asthma makes it hard to breathe, seek treatment and compassionate care at First Medical Associates: Call for an appointment or book online.

*Self-Pay
$150/Consultation
Accepted Insurances
Aetna
Blue Choice
Blue Cross Blue Shield
CareFirst
Humana
Johns Hopkins Health
Maryland Medicaid (Wellpoint/Amerigroup Carefirst Community Plan, Aetna Medicaid, United Health Medicaid, Priority Partner-Johns Hopkins, Amerigroup and straight Medicaid)
Medicare (Including Medicare Advantage Plans with United Health Care, Carefirst, John Hopkins, Aetna) All Secondary Insurances accepted
Cigna
UHC
Find a Location
Discover a nearby health clinic in Maryland.
Questions
Are you seeking answers to health-related questions? 24/7 help available.
Patient Portal
Log in to your First Healthcare Associates patient portal