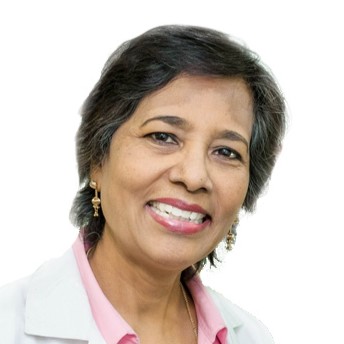 Dr. Merlyn K. Vemury is a friendly and compassionate primary care doctor caring for the Silver Spring, MD community. Dr. Vemury earned her medical degree from the Universidad Autónoma de Ciudad Juárez Instituto de Ciencias Biomédicas in Mexico. She then moved to the United States, where she completed her residency in internal medicine at Franklin Square Hospital Center.
Dr. Vemury runs her own practice and is affiliated with the Johns Hopkins Hospital in Baltimore and Suburban Hospital in Bethesda. She is a member of the American Medical Directors Association and the Maryland Medical Directors Association. She received the Hind Rattan Award in 2013 and was recognized as America's Top Physician in 2011 and 2015.
Dr. Vemury speaks English, Spanish, Telugu, and Tamil, which makes her accessible to patients from a variety of cultural backgrounds. Patients see her for a variety of reasons, including flu shots, pre-surgery checkups, arthritis, asthma, and urinary tract infections.
Dr. Vemury helps patients receive the treatment they need. During her consultations, she explains patients' conditions and helps them choose an appropriate treatment plan.